Welcome to Bellevue Oral & Maxillofacial Surgery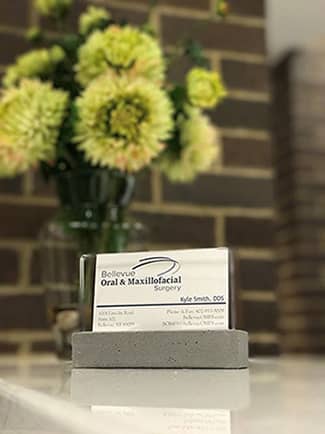 Welcome to Bellevue Oral and Maxillofacial Surgery, the practice of Dr. Kyle D. Smith. Dr. Smith is a highly regarded, expertly trained oral surgeon caring to the needs of the greater Omaha region, including the communities of Bellevue, Papillion, Council Bluffs, La Vista, and more. Exemplary patient care, outstanding results, compassion and integrity are the cornerstone of our practice. We incorporate the latest technology in order to ensure your safety, minimize discomfort and guarantee a successful outcome.
Your visits with us are all about you – your happiness, your comfort and your oral health. Our patients expect and receive the finest care with a gentle touch each and every time they see us.
The more you know, the better equipped you are to make wise decisions about your health care. Among our most important functions is to educate our patients as to their treatment options. At Bellevue Oral and Maxillofacial Surgery, we take the time to speak to you about your treatment goals and will make recommendations allowing you to make the most educated oral health care decisions. We invite you to contact our office to learn more about your oral surgery treatment options.
We hope you will find this website to be a useful and interesting resource for all of your oral health concerns. If you are looking for an oral surgeon in Bellevue or would like more information about any of the procedures that we offer or to schedule an appointment, please call our office at the number listed above. We will do everything possible to ensure that your visit is pleasant and comfortable.